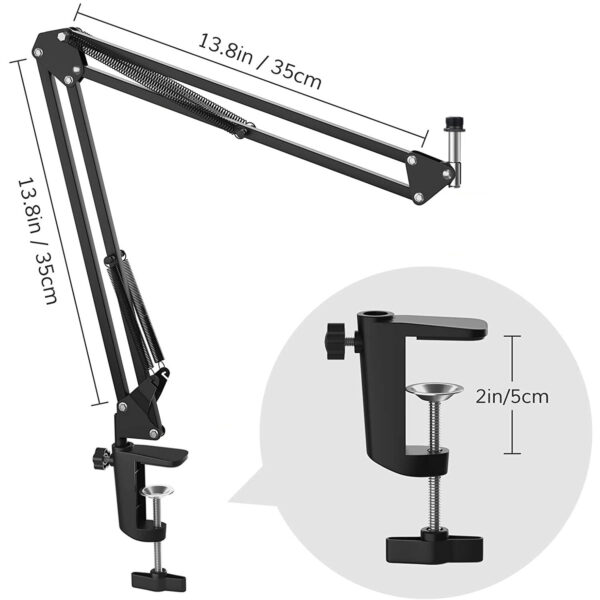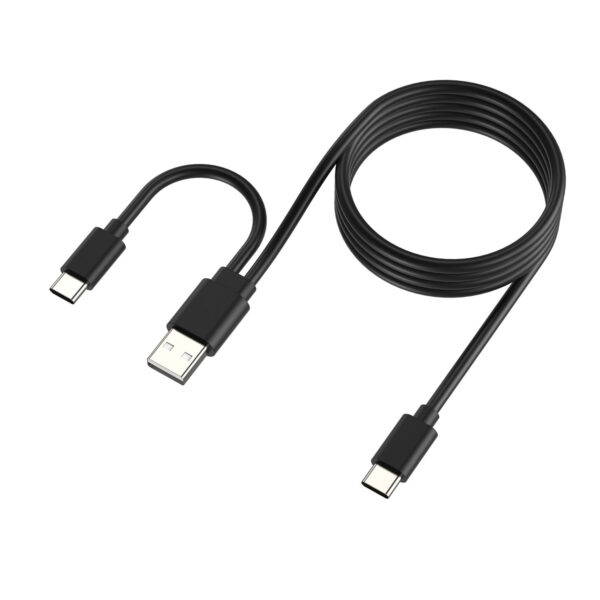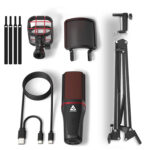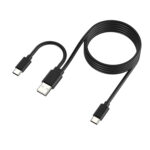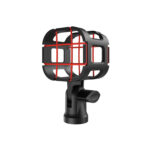 Audio Array USB Condenser Microphone with Boom Arm for Gaming, Streaming & Meeting, Plug & Play,2-in-1 Cable for Windows, MAC OS & PS4/5 ,No-Latency Monitoring, One Button Mute & Volume Control (AM-C7)
🎤PLUG & PLAY:- Microphone offers versatile functions like no-latency monitoring, a one-touch mute button, and volume control. It is a plug-and-play microphone (no driver or software is required). With the USB-C to USB A/C cable 2m cable, the microphone is compatible with Mac OS, Windows, and PS4/5. It is ideal for gaming, recording, live-streaming, youtube video, podcasting, etc.
🎤PROFESSIONAL QUALITY SOUND – The cardioid condenser mic offers crystal-clear audio with minimum background noise. The comprehensive frequency response (20Hz – 20kHz) and 9.7mm diaphragm precisely captures all details of your voice with a max SPL of 110dB and 60dB S/N Ratio. It offers -40dB±3dB (0dB=1V/Pa, at 1kHz) Sensitivity.
🎤POP FILTER, SHOCK MOUNT & BOOM ARM STAND INCLUDED – No need to buy extra accessories. This audio recording mic comes with a compatible pop filter & shock mount. It helps to reduce the pops and will keep your audience from being distracted by the harsher sounds. The shock mount isolates physical vibration coming from the floor, desk, and stand effectively reducing noise in your recording. It also has a boom arm stand which is sturdy and durable with a load capacity of 1.6kg. The arm also provides an excellent range of motion horizontally and vertically combined up to 70cm. The universal mounting clamp is compatible with tables, desks, shelves, and counters with a thickness up to 5cm.
🎤NO LATENCY MONITORING & VOLUME CONTROL:- 3.5 mm headphone jack and volume controls are located on the bottom side of the mic. You can connect headphones to this mic for latency-free monitoring and adjust the appropriate output volume to meet your different needs.
🎤WHAT YOU GET:- 1 x Condenser microphone, 1 x Shock mount, 1 x Boom Arm Kit, 1 x Pop Filter, 1 x 2m USB-C to USB A/C cable & 4 x Straps. All accessories come in one package.
🎤NOTE: This is a side-address microphone with a cardioid pickup pattern. Make sure to speak into the mic diaphragm on the side, not into the rear or the top of the mic.
Additional information
Reviews (0)
Additional information
| | |
| --- | --- |
| Model Name | AM-C7 |
| Microphone Type | Condenser |
| Polar Pattern | Cardioid |
| Diaphragm Core Diameter | 9.7mm |
| Frequency Response | 20Hz-20kHz |
| Sensitivity | -40dB?3dB (0dB=1V/Pa, at 1kHz) |
| Max SPL | 110dB |
| S/N Ratio | 60dB |
| Sampling Ratio | 96kHz/24 bit |
| Cable Length | 2m |
| Compatibility | PC, Laptop, Windows, Mac OS & Playstation 4/5 |
| HSN CODE | 85181000 |
| Body Material | Plastic |
| Connection Type | USB |
| Connectivity | Wired |
| External Output Jack | YES |
| Items Included | 1 x Boom Arm Kit, 1 x Condenser Microphone, 4 x Straps, 1 x Pop Filter, 1 x Shock Mount, 1 x 2m USB Type-A/Type-C to Type-C USB Cable |
| Noise Cancellation | Built-in |
| Output Jack | 3.5mm |
| Plug & Play | YES |
| Pop Filter | 7.5cm x 8cm |
| Pop Filter Layers | Single |
| Shock Mount | 5.5cm x 5.5 cm |
| Table Clamp Opening | 5cm |
| Brand | Audio Array |
---
Only logged in customers who have purchased this product may leave a review.